on sustainable solutions and success stories :::: green living, design, building, and business
Updated: 2 min 27 sec ago
If you want to avoid buying clothing that was made in sweatshops (characterized by unsafe conditions, unethical labor practices, and poor wages); and/or you want to buy clothing that is made from natural and organically grown fabrics (such as organic cotton, wool, hemp, bamboo), rather than from synthetic, petrochemical textiles or from fibers grown with toxic pesticides, you probably—at least for the time being, until the industry shifts—should avoid buying most of your clothing from major retailers, especially those that sell clothes for super-low prices. Those clothes are not just cheap in price. In most cases, they're also cheaply made (so they're not durable), and the people who make them aren't making a living wage. Furthermore, those workers work long hours in dangerous factories: facilities without proper health and safety standards, audits, or enforcement. (For example, in recent years, more than 1,800 garment factory workers have died in Bangladesh, mostly due to unsafe buildings that collapsed on them. Some companies, such as Walmart and the Gap, have so far resisted signing onto a new building safety agreement, in favor of weaker initiatives of their own.)
As President Benjamin Harrison said, "I pity the man who wants a coat so cheap that the man or woman who produces the cloth will starve in the process."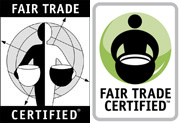 Look for well-made and durable, Fair Trade or domestically made (Made in the U.S.) clothes, made of organic (or recycled) materials, by ethical and sustainable brands [follow the links below to find some]; or buy clothes second-hand. And most importantly, don't buy way more clothing than you need, and be sure to donate your unwanted/extra clothing.
Product Assessments and Vetted Brand Listings:
Check the Apparel section of GoodGuide (which also has a mobile app):
…and look for Fair Trade Certified apparel,
…as well as clothing companies that are Certified B Corporations.
Also check out the Sustainable Apparel Coalition and its preliminary Higg Index, which aims to measure the environmental (and, in a later phase, also the social) performance of apparel products.
Selected Companies/Brands:
These are a few brands that pay attention to the environmental and social impacts of their products. Most of these companies offer some organic and/or Fair Trade clothes. Check out their "Sale" (or "Specials" or "Clearance") pages to find discounted products.
If you know of other relevant brands and you would recommend their products to others, please mention those brands in the Comments section.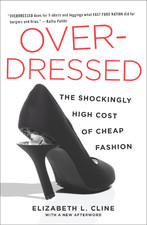 For further information on this topic, you might want to read this book:
Overdressed: The Shockingly High Cost of Cheap Fashion, by Elizabeth Cline. (Also check out the author's Shopping Directory.)
Other recent posts on green products:
You can find fresh, daily morsels of information and inspiration on The Green Spotlight's Facebook Page. Anyone can view the page, even if you don't have a Facebook account. But if you do have an account, we hope you'll click on the Like button (if you haven't already "Liked" the page).
Please visit the Page to get a sense of the wide variety of topics that it covers, and you are welcome to comment on the posts and share your own recommended links. We'd like to get your feedback on the information we're providing.
Here's a sampling of topics that we've spotlighted on the page over the last month or so:
The Human Experiment film, narrated by Sean Penn
Union of Concerned Scientists' paid internships
Sungevity's zero-down solar leases
Climate Progress
Energy-saving tips
Wangari Maathai
"Ecocide is a Crime" campaign
Keystone XL and tar sands protests
Non-GMO Shopping Guide app
Americans Against Fracking
World Solar Challenge solar-powered cars
Dr. Vandana Shiva, and her organization Navdanya
Great quotations, graphics, photos, and cartoons