on sustainable solutions and success stories :::: green living, design, building, and business
Updated: 58 min 11 sec ago
You can find fresh, daily morsels of information and inspiration on The Green Spotlight's Facebook Page. Anyone can view the page, even if you don't have a Facebook account. But if you do have an account, we hope you'll click on the Like button (if you haven't already "Liked" the page).
Please visit the Page to get a sense of the wide variety of topics that it covers. You are welcome to comment on the posts and we hope you'll share some of our links. To make sure that Facebook will continue to show you our posts on your homepage/newsfeed, visit our page regularly and give a thumbs-up to ("Like") your favorite posts.
Here's a sampling of topics that we've highlighted on the page over the last month or so:
Navajo teen wins award for building solar ovens
Tesla makes its patents open-source
Solar Impulse 2 airplane
Warka water tower gets water from the air
Best ways to protect homes from wildfires
Climate Confidential
Natural mosquito control
EWG's guide to safe, effective sunscreens
Ways to reduce breast cancer risk
Cowboy and Indian Alliance
Films: Triple Divide, DamNation
Wendell Berry poem
Quotations, cartoons, photos, videos, etc.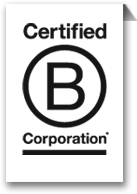 B Corporations (known as B Corps, for short) are "a new type of company that uses the power of business to solve social and environmental problems." As of early May 2014, there are almost 1,000 certified B Corporations, in 32 countries and 60 industries. Among the most well-known companies that are certified B Corporations are: Patagonia, Ben and Jerry's, Method, and Seventh Generation.
Each year, B Lab recognizes a group of B Corps as "Best for the World" honorees for creating the most positive social and environmental impact. These companies have earned an overall score in the top 10% of all Certified B Corporations on the B Impact Assessment, a rigorous and comprehensive assessment of a company's impact on its workers, community, and the environment. (For more information on B Corp certification, see our previous post on this topic.)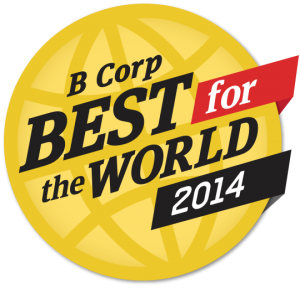 I'd like to highlight a small selection of this year's "Best for the World" companies, within a few types of industries:
Financial
Energy/Solar
Consumer Products
There is also an Environment sub-group of Best for the World honorees, for the companies that scored in the top 10% of all B Corps within the environmental impact category. And there are sub-groups for the top 10% companies for worker impact, as well as community impact.
Click here to find other B Corps (you can search by location, name, industry, keyword).
Note: B Corporations and "benefit corporations" are similar but different things. For an explanation of each and the difference between the two, please see our previous post on this topic:
Benefit Corporations and B Corps: Businesses for the Common Good

The Goldman Environmental Prize is the world's largest and most prestigious annual award for grassroots environmentalists. Goldman Prize winners are models of courage, and their stories are powerful and inspiring. "The Prize recognizes individuals for sustained and significant efforts to protect and enhance the natural environment, often at great personal risk. Each winner receives an award of $150,000, the largest award in the world for grassroots environmentalists. The Goldman Prize views 'grassroots' leaders as those involved in local efforts, where positive change is created through community or citizen participation in the issues that affect them. Through recognizing these individual leaders, the Prize seeks to inspire other ordinary people to take extraordinary actions to protect the natural world."
This year marks the 25th anniversary of this international prize. And this year, for the first time ever, the Goldman Environmental Prize ceremony will be broadcast LIVE on the Goldman Prize YouTube channel. The ceremony takes place Monday, April 28, 5:30 PM Pacific Time.
This year's six prize recipients (one from each of the six inhabited continental regions) are:
Click on each recipient's name to read—or watch a brief video—about their remarkable efforts and achievements.
Here's the video about Helen Slottje, who has provided pro-bono legal assistance to help towns across New York (including Dryden) defend themselves from oil and gas companies by passing local bans on fracking, using a clause in the state constitution that gives municipalities the right to make local land use decisions.
Posts on Goldman Prize winners from previous years: